Saint Lourdes Saddlery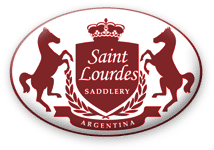 We climb inside the rider's mind.
We feel every beat of the rider's heart.
We flex, bend and twist every inch of rider's muscle.
It's not easy, but it's natural for us.
We are riders.
Our mission is to provide a competitive saddle, to help the riders perform better. We are constantly pursuing to help riders of all skill levels achieve peak performance with every product we bring to the market.
Today, Saint Lourdes offers innovative, high-performance saddles that respond to the need of both, the horse and the rider.
We continuously improve the quality, look, feel and image of our products and to match and exceed consumer expectations and to provide them with the highest value.
In our equipment riders find a passionate focus for design and functionality.

Saint Lourdes Saddles...
THE ONLY
WAY TO RIDE
The Leather
Today we offer to our clients several leather options to choose from:
| | | |
| --- | --- | --- |
| | | |
| Sedgwick English leather: | | Pull up Leather: |
| This English tannery takes huge pride in the quality of the leather it prepares for the use in the production of saddlery and has rigorous procedures in place to ensure that leather is prepared to the highest standards. This leather has fundamental characteristics of true quality, visual appeal and endurance. | | This new product is unique worldwide. It's a lubricated leather with a greasy touch, which adjusts to the shape of the rider's leg without loosing its durability. Argentinean leather. An exclusive vegetable tanned leather. High quality and eye catching look. |
Technology
Tecnologia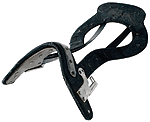 All of our saddles are built on a wood spring tree. The frame of this tree is reinforced with steel plates for added strength and shape preservation. The cut-back head avoids pressure on the withers.
Tree width fittings available are: narrow (N), medium (M), medium wide (MW) wide (W), extra wide (XW). In the seat, panels and knee pads we use a special Gel Foam ® for extra padding and comfort.
Each saddle is made with the passion and experience of our artisans, who have been making saddles more than 30 years.
Ferias / Trade Show

FIERA CAVALLI
Italy 2003/2015


KING OF PRUSSIA
USA 2004


SPOGA
Germany 2004/2005/2006/2007/2008/2009
2010/2011/2012/2013/2014/2015/2016


BETA
UK 2006